Intranet Database
| | |
| --- | --- |
| | What? Why? How? |
Intranet database allows you to operate a fully functional database without the hassle of learning any programming language! It offers facilities like file uploading and sharing, calendar and planner, advertisements, message board, database of members complete with photo and many more.

It is a very efficient way of keeping track with events involving batch members; for examples wedding dates and birthday reminders.

All you need to do is register yourself and voila - all the facilities are at your disposals!

Disclaimer: The webmaster does not receive any rewards or commission for promoting the Intranet product this eagerly. The quality of the product merits his recommendation despite his cynical view of the world.
| | |
| --- | --- |
| | Register |
| | | |
| --- | --- | --- |
| | | |
| | Click on the Intranet logo to access the database. If you are still not registered; please do so - the instructions thereafter are self-explanatory. | |

Five Science Five
To access complete database, please click here.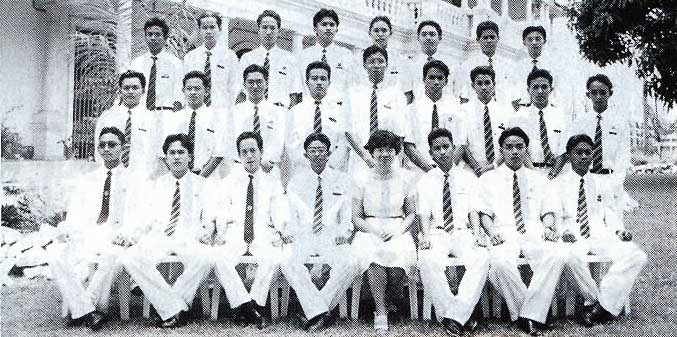 | | |
| --- | --- |
| Azwan Hamzah | Johor Bahru, Johor |
| Shahril Azwa Ibrahim Pati | Kulim, Kedah |
| Shahril Nizam Mohamed | Kangar, Perlis |
| Shamsul Akmal Muzeni | Cheras, Selangor |
| Sharidz Iswadi Azhar | Butterworth, Pulau Pinang |
| Tengku Ahmad Ismawi Ibni Tengku Ismail | Kuala Terengganu, Terengganu |
| Wan Yusrol Rizal Wan Yusoff | Kuala Kangsar, Perak |
| Zahadin Omar | Kemaman, Terengganu |
| Radin Mazlan Radin Baharuddin | Kuala Lumpur |
| Abdul Razak Abdul Rahim | Hulu Kelang, Selangor |
| Afifi Ahmad | Shah Alam, Selangor |
| Ahmad Faizuddin Ameruddin | Kelang, Selangor |
| Ahmad Johari Jaffar | Subang Jaya, Selangor |
| Ahmad Suffian Osman | Kelang, Selangor |
| Amir Fadhli Ghazali | Kuala Terengganu, Terengganu |
| Arisham Arshad | Machang, Kelantan |
| Azrai Abdullah Azizi | Petaling Jaya, Selangor |
| Faizal Baharom | Selayang, Selangor |
| Khairel Rafezi Ahmad | Kuala Lipis, Pahang |
| Khairul Nizam Mois | Kuala Lumpur |
| Mior Imran Mior Musa | Taiping, Perak |
| Mohamad Firaheez Zuhdi | Petaling Jaya, Selangor |
| Mohamad Hanif Mohd. Ali | Matu, Sarawak |
| Mohd. Hazri Mohd. Rusli | Hulu Kelang, Selangor |
| Mohammad Lutfi Mohd. Yusuff | Kelang, Selangor |